Today was solar eclipse(Nissyoku).
I didn't know it before I realized some people were using special glass to see the sun on the beach.
I could take photo with digital camera because many clouds prevent sunshine.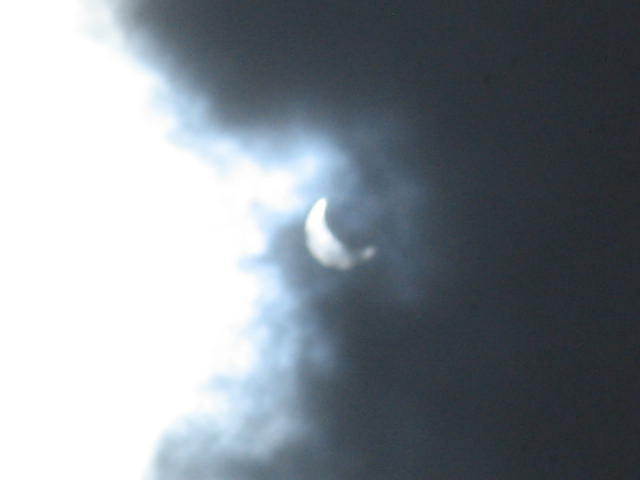 I had no plan for daytime until 3:30PM.
So, I was just laying on the beach chair and looking up to the sky or seeing the sea.
I realized I had no plan in daytime tomorrow too, so I asked young guy selling tours on the beach to find something tomorrow.
Even though Dahab diving was cancelled, Dahab snorkeling tour is still on sale.
I bought it for tomorrow's activity.
My schedule today was only Camal riding.
A pick up guy should come to the hotel 3:30PM.
He was not shown 3:50PM.
At this kind of moment, alway I think I might be cheated.
Because I paid already, not so many information on the trip boucher, and I used a travel agency guy for local(Arabic) tourists without office.
I had an experience in Peru that taxi was not shown up already paid as all include package.
It was just $10 or something like that, but nobody feels good being cheated on the travel.
Eventually, a pick up guy came to the hotel and I was heading the the desert.
Camel riding was not so expensive.
It's about 20Euro, $24.
I though I may ride 10 minutes and that's it!
However, it was pretty good rahter than I expected.
A young guide guy, he is jockey and doing horse back riding tour took me a bedouin village.
One camel was led by young bedouin boy to me.
He is 7 years boy. I don't remember his name.
He was very calm and slowly moving me to the hill where I should see sun set.
It was about 40 minutes I was riding.
Young boy tried to sell little accessory, but I didn't want it.
I intended to give some tip to the boy after coming back from hill instead of it.
I climed a desert hill to see sun set with young guide guy.
However, it was too late... The sun was down already.
When I came back, the camel boy was not there.
I was guilty I didn't give tip....
Anyway, it was very nice short activity today.
<<< Camel Babycakes >>>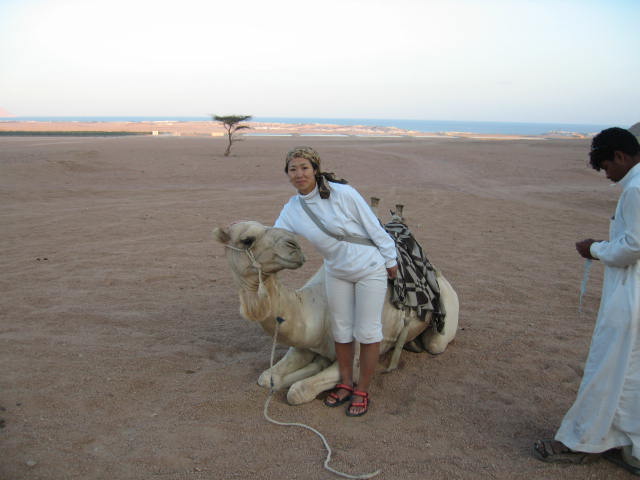 <<< Camel, Babycakes, Camel boy, and guide guy >>>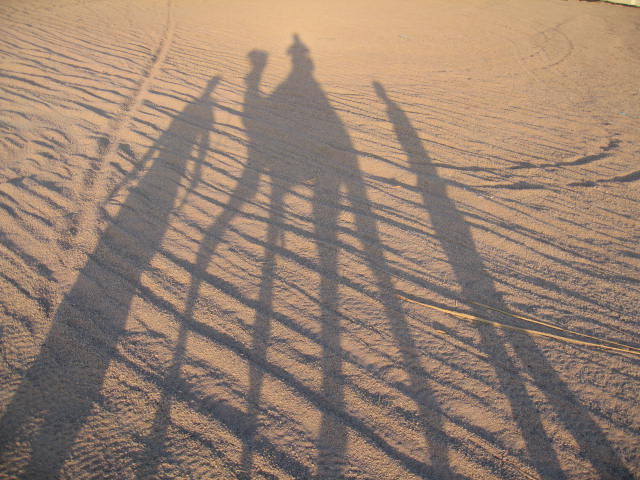 <<< Bedouin kid with snivel(Aoppana) >>>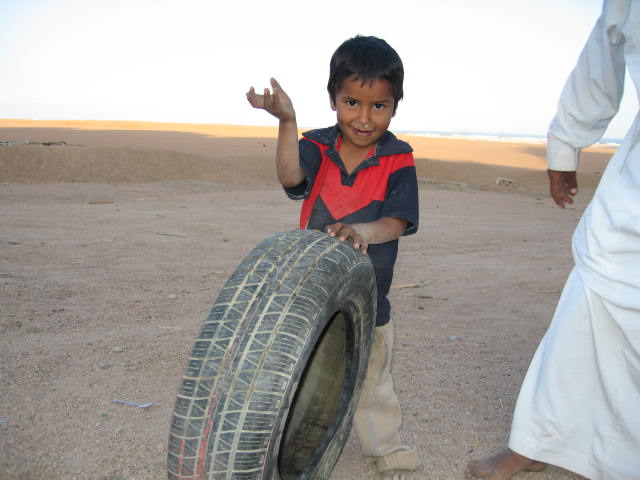 Last day of my diving was cancelled.
Final one was supposed to go far diving spot using Jeep, Camel, and walking in the desert.
The tour needed at least 6 pax, but was not enough people for the day.
Even though they have some trips to go several spots, I didn't want to go.
I was a little bit tired and the weather didn't look so good.
So, I just finished of my diving tour.
Currently, the air tempature is about 30 degree(C), and sea water temprature is about 24 degree.
Even desert area, the spring is still spring.
They said it's gonna be 50(C) above water and under the water will be 30(C) in the summer.
Believe or not, flood by strong rain is sometimes happened.
One diving staff told me the water at knee level stayed for a while before.
I didn't belive the flood or raining in desert.
And, it rained today!
So, now I belive it.
I did diving past 3 days, totally 6 divings.
All of divings were just great.
Everything is well organized and guide gave reasonable diving briefings (explaination of diving where, how, and rule) and instructions during trip.
Because scuba is high risk sports, it's very important the dive shop or guides are doing right things always.
I was comfortable with this diving shop.
The boat of day trip is like this.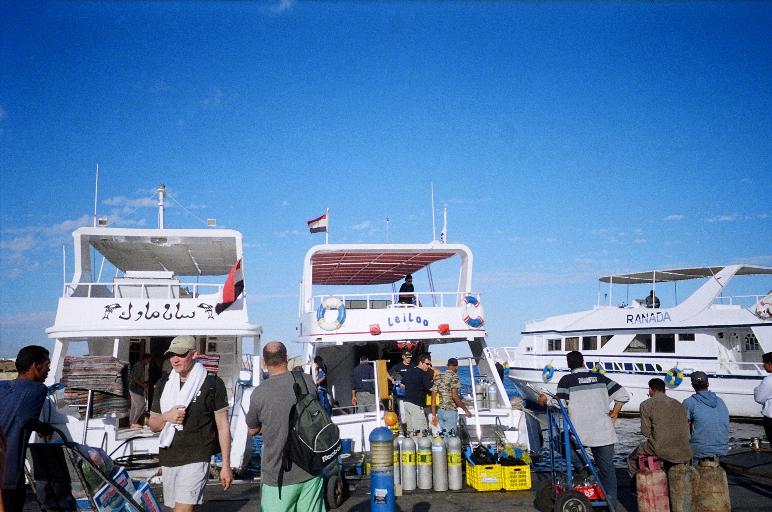 At the diving in the Ras Mohamed National Park, I saw Napoleon Fish, bunch of Barracuda, Turtle, and big Tuna!
Unfortunately, my disposable camera didn't work because it was too deep.
But I could take a photo of Turtle.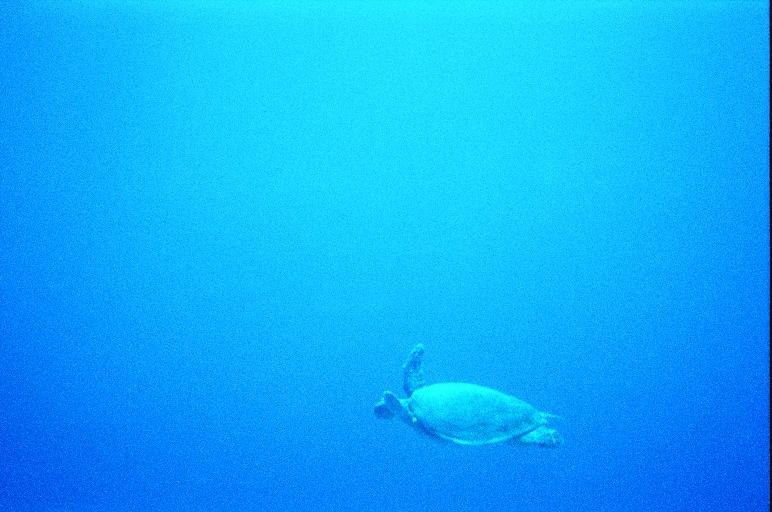 It's cute, isn't it?
He was coming to me.
Real color was clear and bright more than my cheap camera photos.
This one might be better to see.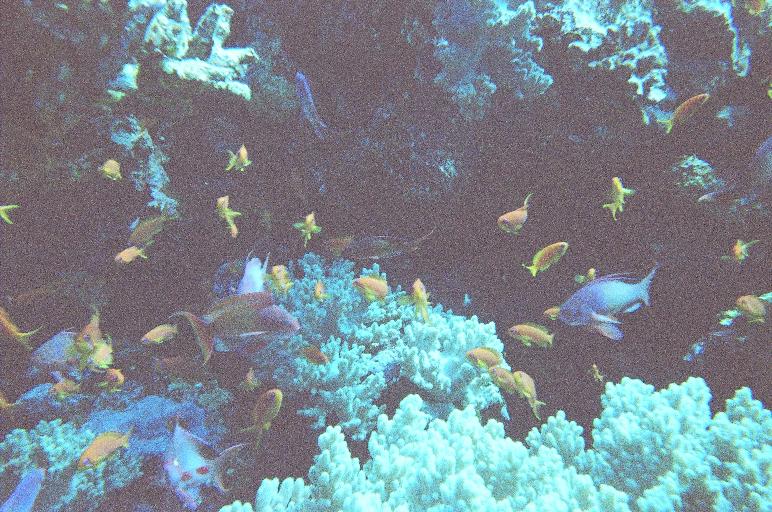 Last of all, please look this blue.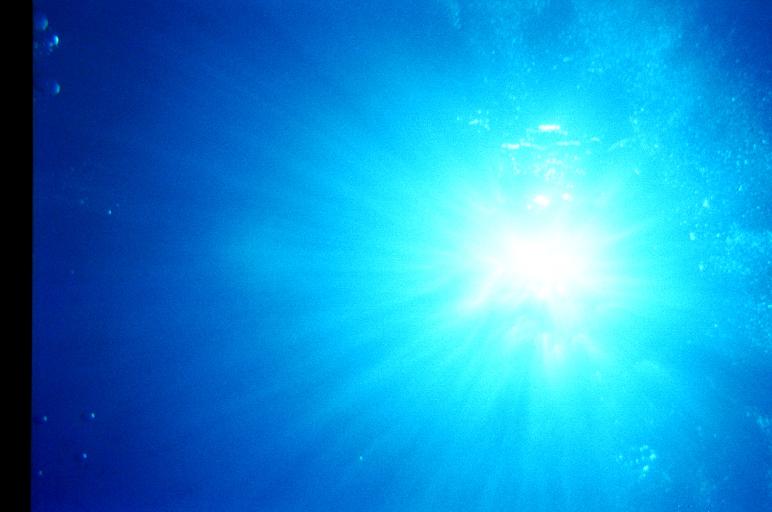 Eventually, I could not sleep AT ALL during flight.
The seat of Gulf Air is fuxxing narrow and no space between front seat.
Additionally, many many kids crying and screaming.
A boy on back seat of me kept kicking my seat, cried, or screamed.
I was never annoyed like this flight in my life.
So, I was sleeping slepping sleeping during the flight to Sharm el Sheikh,
even in the airport.
I though I should cancel first day's diving.
However, thanks my body, I recovered quickly with one night rest.
I have to tell where I am exactly.
This place, Sharm el Shaikh is most south point of Sinai peninsula which is shaped triangle.
In north east of peninsula, there are Israel and Palestine having serious trouble all the time.
Since Sharm is resort place, many Israelis or Arabic come here for vacation.
The price is more expensive than Cairo.
The weather is not so hot and no humidity.
So, feel even chill in the night.
Very very preasant environment, just my skin is too dry.
The people are very kind and always say hello and smile.
They are trained well for resort business.
I don't have to doubt people so much like in Cairo because price is already fixed and no chance for negotiation.
No people asking "Money Money".
* I will tell some stories later in Cairo part.
So, I can relax more than I expected.
For my activity,
next day of arrival, I went diving shop and was quickly moved to the Red Sea by boat in the morning.
I jumped into the water. It was about 24 degree celsius, little bit cold.
Then, I found....
What a great visibility!
Absolutely, Red Sea is top diving place all divers wanna go.
Beautiful hard and soft corals anywhere, many tropical fishes, of course.
Feeling like I am in the heaven.
Now, I finished 2nd day of my diving plan.
Today's spot was also wanderful, but the sea was rough with strong current.
But, it was ok for me.
I will dive in the National Park tomorrow.
On last day of my diving is supposed to be going far, the name is called Dahab.
That diving trip will use camel to go to the spot.
I might be able to show photos of another unusual animal riding.
These are some photos of the town and Red Sea.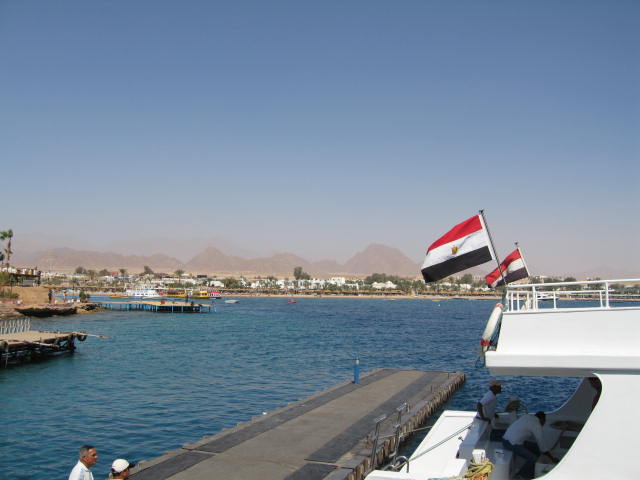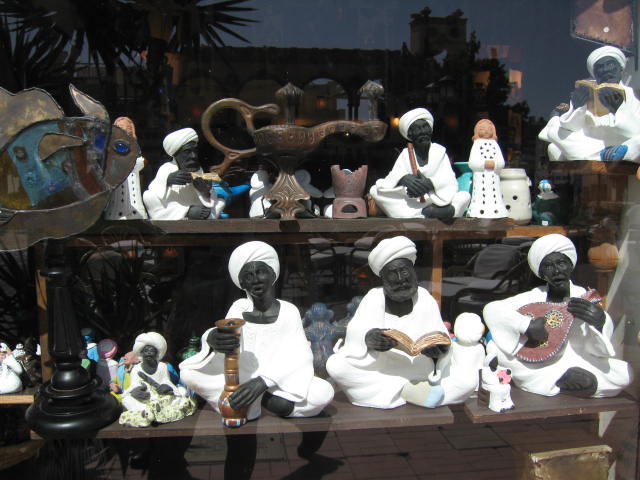 After over 5 years, I and Chie and Akane were united.
We studied teaching method of Japanese in the school in London, but I dropped out because of job opportunity in New York.
Chie and Akane are teaching Japanese to local people.
Akane will start new job of teaching English to Japanese kids who came to Singapore from Japan.
They looked great and seemed doing very well.
Chie used to live n Singapore for her father's business and Akane are married with Sigaporean.
It looks they are settledown in Singapore as well as I am in New York.
5 years sounds long, however, it was going so quick.
We were talking about family and class mates studied together.
Some stayed in UK and married with biritish guy, some went back to Japan and teaching in Japan.
Most people we are not sure how, where they are doing recently.
Anyway, it was good to see old friends and talk about old stories.
As my opinion, Singapore seems very comfortable to live.
Everything is clean and tidy even china town.
The sign in the city or subway are very very friendly.
Easy to obtain Japanese staff.
People look nice and polite.
And, food is really really great. It's most important for me.
If I move somewhere, I would come to Singapore....
Here is photos in Singapore.
<<< Raffles Hotel >>>
<<< Merlien and high rise buidlings >>>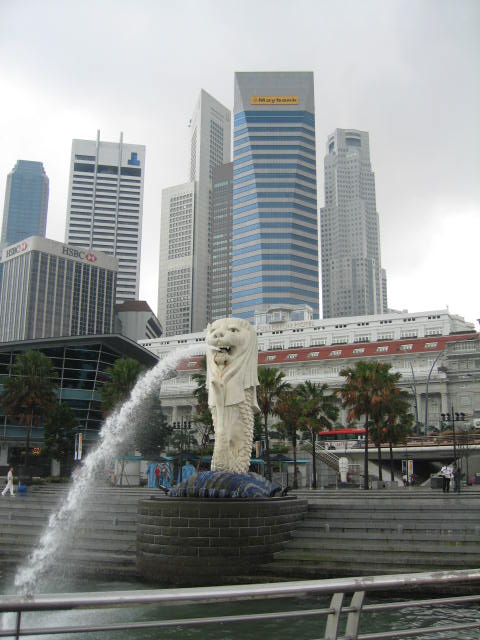 <<< Babycakes - Discipline with massive water from Merlion >>>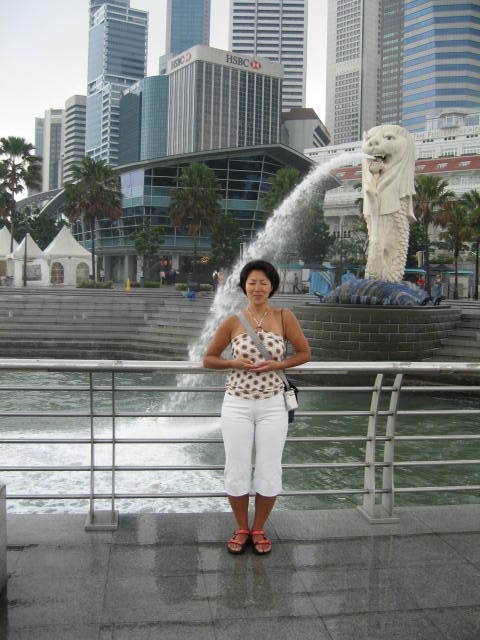 I will flight to Egypt early morning tomorrow.
So, I will write in south point of peninsula Sinai next.
It's 8:00 am now
I am very sleepy.
The reason why is, I stay at a dome room with some women and they came back to the room afer and after.
It may be wrong decision I decided to stay dome room, but I didn't find reasonable price single room.
But, it's ok. This guest house is a kind of cool and staff is very kind, also guests are ok.
Dome stay remainds me when I was in London.
I stayed mix(male&female) dome room first week. *only guy at that time, though.
It was very interesting experience, people around the world came there and were doing various things.
One was Oracle technitian, another is Java programer, one hong kong guy was fashion designer....
Anyway, dome itsself is not big problem for me.
One thing disturbed my sleep a lot is CORAN(muslim daily pray) in early morning 5:50AM.
My guest house is located in the center of Arab district.
So, in the evening and early morning, CORAN on the tape with is coming from Mosque very very loudly.
One restaurant guy,they are selling thin pancake and curry set n front of the mosque said to me, "okonomiyaki tabero!"
It was funny somehow.
Today, I will see mt friends and may go to see Merlion.
At Bankok International Airport, I and Lee had to go different gate.
Lee's gate was #51 and my one was #74.
I said,"Please say hello to Indy and Mommy will come back soon."
Lee said,"I will. Please be careful."
We cried and cried before going each way.
It was too much fun in Thailand for us.
While still little tears in the airplane, I was moved to Siem Reap about 40 minutes later.
Because I didn't want to spend money for hotel just myself, I stayed at Guest House which offeres reasonable price.
$15 per night.
It's average price here for single private room with air conditioner and bath.
This guest house is family owned small hotel and kept very clean.
It was quite comfy for me.
Siem Reap is a town having world heritage, Angkor Wat.
Tell my truth, I didn't know there were other great temples than Angkor Wat around here, and they are spread out 40KM north or 20km east.
To see everything, it may take at least 3 days.
Since I have only 2 days I can spend for sightseeing, I dropped my backpack and left for antient temples quickly.
To go temples, there are some ways,
- Luxuary private car
- Tuk Tuk (motorbike with carrier for 4 people)
- Moto (Motorbike)
The jptel pick up guy offered me to take me around ny Moto whole day for $8, so I took it.
There are two major popular temples.
Angkor Wat and Angkor Thom
Angkor Wat is very known temple which has three towers.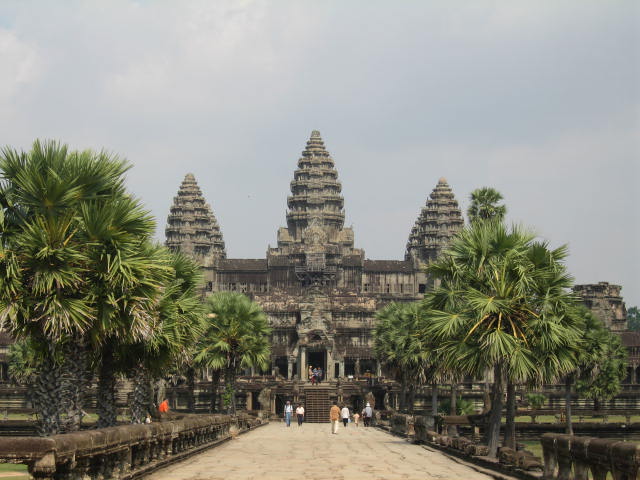 I climbed top and got bad sore on my legs next day....
Angkor Thom is related to Japan.
Japanese Angkor Wat Project repaird Angkor Thom.
Small exhibition house shows how they did repair.
This temple is famouse for big Budda face curving.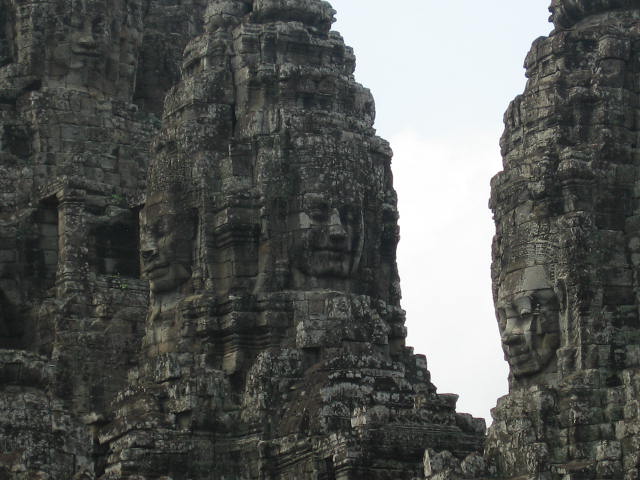 Another temple I visited next is also famouse because one Hollywood movie used.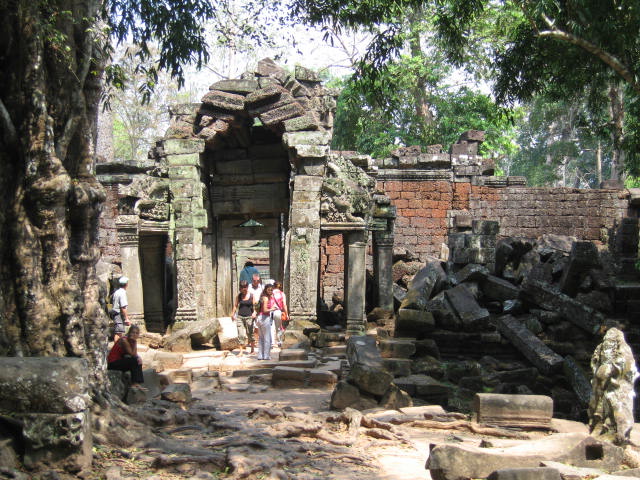 Guess what!
"Thom Raiders" of Angelina Jolly.
It's too famouse story her adopted son 'Murdock' is cambodian.
Cambodia is still very poor country, but I read in some paper that people is now feeling peace after Pol Pot downfall and now try to get better and better, little by little.
Surprisingly, children selling stuff in the temple or on the street can speak reasonable english.
Can you imagine I could make conversations with 5 or 6 years old kids who look like street children in ENGLISH!
I asked Tak, bike guy taking me around,"How can they learn English?"
He answered their parents have some money send kids to private school to study English after they get 5 years old.
One little boy (he was small but he was 12 yrs old in fact) who tries to sell post cards went 2 years to learn English.
He spoke very clearl and nicely.
I bought some cards of Angkor Wat and wrote to Lee and Indy today.
Tomorrow, I will leave from Cambodia and head to Singapore via Bangkok.
I am looking forward to meeting my friends, Chie and Akane, we were together when I was in London.
At last, I will put one photo I took in front of Angkor Wat.
They look lively.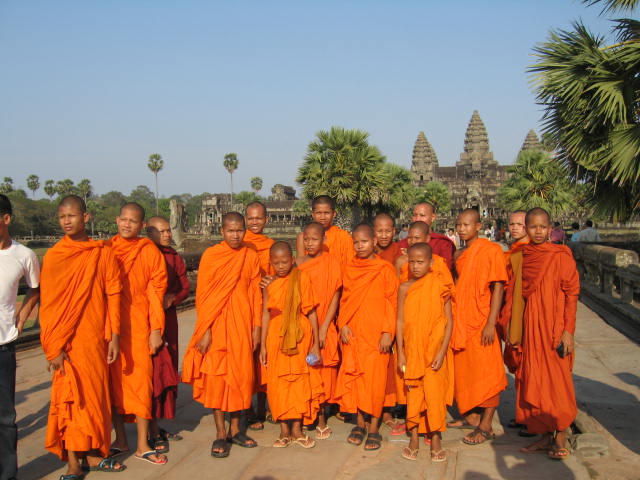 From Samui Island to Phuket, it was just 45 minutes by air.
Despite such a short flight, Bankok airway served breakfast.
One step from airport, HOT~~~.
Really hot here.
It must be same as Samui, but feeling much hotter.
The hotel guy told me it was 37 degree at that day we arrived.
Here, in Phuket, it was very different from Samui.
First,
more American and Asian.
98% tourists were german in Samui.
Second,
more shops and restaurants.
but basically just 4 kinds of shop,
- cloths store like jeans, t-shirt, swim wear
- local sourvenior shop
- order maid suites
- art shop for budda painting
Third,
more expensive.
maybe Samui price is 2/3 of Phuket.
Completely developped resort place.
However, we must remember the Tsunami tragety about one year ago.
Patong, the beach we stayed was washed away by big wave and destroyed everything.
This is one of the photos somebody left in the PC I am using now...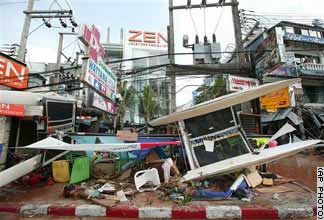 Now, there are some signs along the street to indicate evacuation place.
"Tsunami evaculation 300m ahead"
Oh no, 300m is pretty much long way to escape from tsumani....
Anyway, it amazed me that this town was recovered very well and very quick.
Nothing I found by tsunami anywhere but silly t-shirts prints about TSUNAMI or special cocktail named TSUNAMI.
The people, here seem to be very storong and have big motivation for the future.
By the way, for the fun of I and Lee, of course, we went scuba diving again.
There are many many great diving points in Andaman sea.
We went 2 days for boat trip.
The water was clearer than Samui when we went.
So more fun for diver.
We went small reef with a lot a lot of coral or anemone.
We saw Nimo(Crown fish) or many kinds of tropical fish.
We saw even shark! (it's harmless, small and cute)
Here is some pix taken under the water.
<<< Shark and Babycakes >>>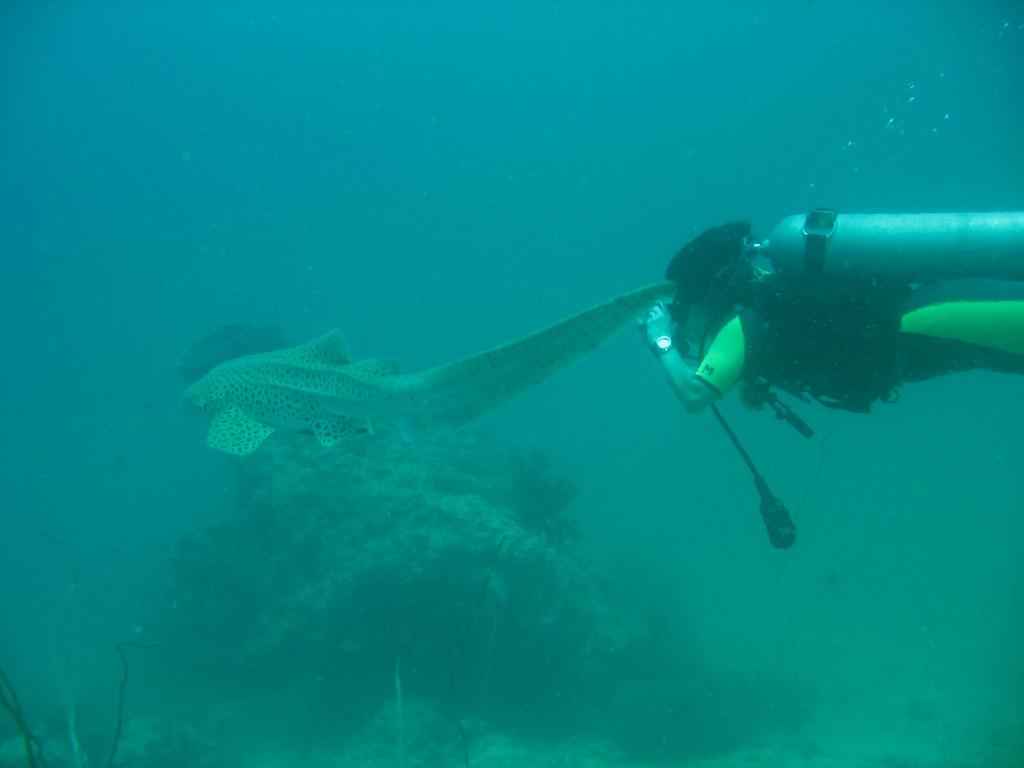 <<< Beautiful soft coral >>>
Tomorrow, we will head back to Bangkog again.
Then, Lee will go back to New York and I will fly to Cambodia.
It's little bit sad being alone, but I wanna explore more and more.
This is my trip.
Since I am not going out in the night by myself, I will update my blog often.
Next time, I will be writing at some internet cafe near Ankor Wat.
NEWS!
I uploded a photo of a baby elephant and 2 boys in Bankok city!
Please see previous one.
***************************************************
Just 45 mins flight tooks us into a toropical island.
It's called Koh Samui.
Koh means 'Island' in thai, 'Koh Samui' is 'Samui Island'.
The reason I came to this island is scuba diving.
There are some points great for diving around this ocean.
We plan to stay for 6 days and can spend whole 4 days here.
I can not do diving last day because 1 day is necessary before flight after scube diving, so we have booked 2nd ans 3rd day for day trip diving tour.
We arrived at Samui 8AM.
AN early flight is good not to spend waste time for waiting flight or transportation, it's little bit tough though.
It was too early to check in the hotel, so we decided to do some activities.
The hotel driver, picked us at the airport says, 'How about elephant trecking?"
Oh my!
THIS IS WHAT I WANTED TO DO!!!!
Immediately I answered yes.
Center of the island, there is a elephant ranch in deep jungle.
4 adults elephants and 1 baby elepahnt were there.
A biggest male, his name is Jumbo was assigned for us.
Jumbo was taking us up hill, down hill, and in the river.
Half past of all road, elephant operator(?) gave his position to me.
I sit on his head and just kept grubbing rein(Tazuna), otherwise, I fell down from his head.
His skin was very hard but body was really warm.
I was amazed by this huge and gentle creature.
Maybe Jumbo thought "ok, no more operator boy. I wanna do whatever I want."
He knocked down big bumboo tree and started to eat.
He shaked his head more and stepped his legs.
I was really falling down.
The operator boy was earged to exchange the position.
Eventually he finished eating and walked again.
After 1 hour ride, I and Lee gave some tip to the elephant operator boy with the words. " Please take care of Jumbo."
<<< Jumbo and us >>>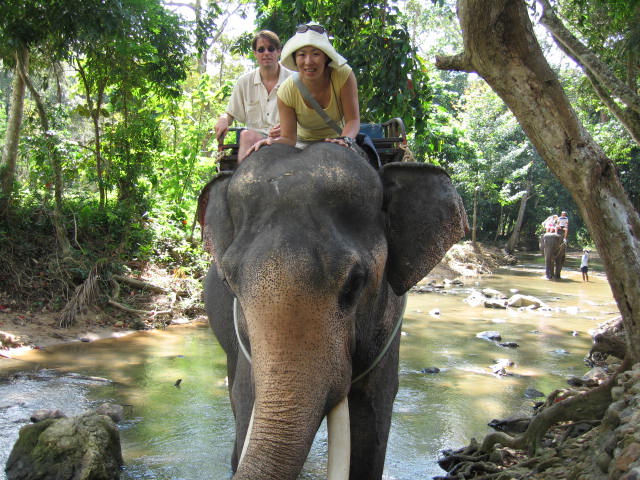 <<< Diving redbeans >>>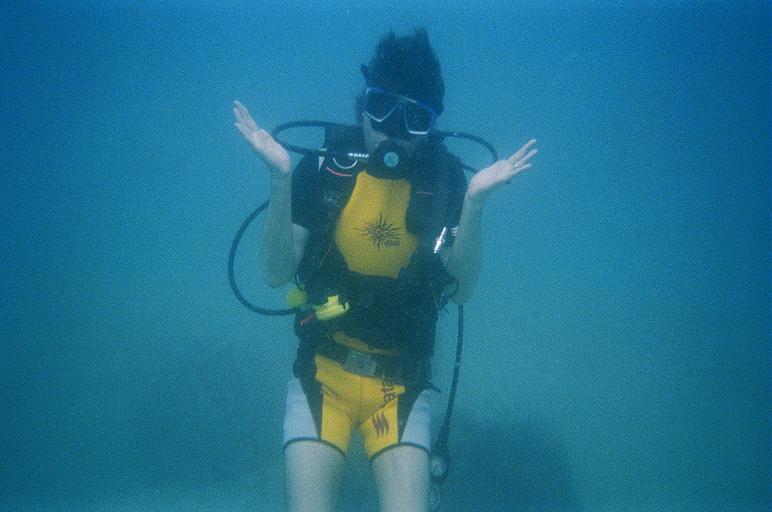 Next, we will be in Phuket.
When we were walking to look for a restaurant, we saw one big object was getting closer and closer on narrow side walk.
The big object carried one little boy on his back and another boy were walking his side.
I had no idea what it is....
Finally, he (or her) showed his big body in front of us.
He was an elephant!
The narrow side walk was completely occupied by him.
This area is just for the local people to have dinner or drink at hip bars.
Two boys were asking tourists on side walk to buy banana for the elephant.
The elephant, somehow looked sad, but also looked trusting two boys.
They also asked me to buy banana, but I said 'no' immediately.
In this kind of situation, I always say ' no' automatically.
Then, they were walking toward the heavy traffic load and walked through between car and car to cross other side.
I and Lee were just looking at them for a while.
I regreted a little bit that I didn't buy bananas for the elephant.
It was just 50 cents....
* sorry I don't upload photos. maybe my camera is new. PCs has no driver, I guess.
shame I wanted to show the elephant and 2 boys.
Anyway, we will move to Samui island tomorrow.
If I have a chance, I will write again.
**************************************************
Here is a photo of Baby elephant and 2 boys in Bankok city.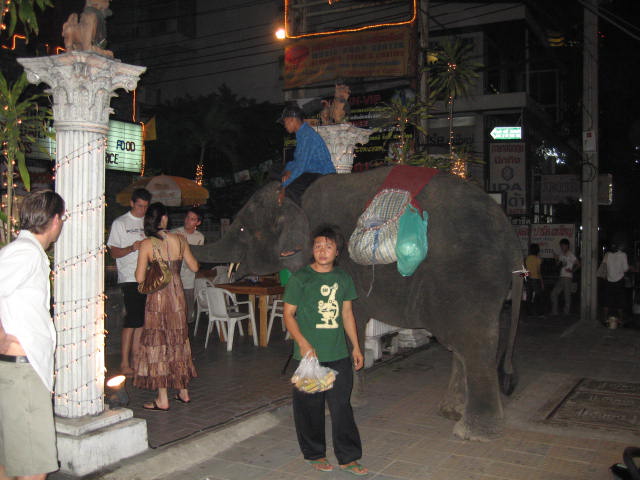 はー、行く前から疲れてしまった。
何故かというと、家を大掃除したからだ。
掃除機かけて、床をクイックルで拭いて、お風呂洗って、トイレ掃除して、キッチン掃除して、ソファカバーを洗ったやつにかけ替えて、etc,etc。
Leeが先に帰るから、旅行で疲れてるのに、散らかった家に帰るのはかわいそうなので、行く前に掃除した。
というよりも、何故かいつも長期旅行の前は掃除しないと気が済まない。
なのでPackingは最後の最後の家を出る3時間前。
30分くらいで完了。
だって結局1週間分くらいしか衣類は持ってかないし、その他はカメラやらフィルムやらウェットティッシュやら、そんなような小物ばかり。
梅干もYUKOちゃんにもらったお茶も入れた。
何故かお茶漬けの素も入れたくなったので、入れてしまった。
終ーわり! と思ったら、ガイドブック入れるの忘れてた...。
この分じゃ、きっと何か忘れるだろうね。
旅行だからさぞかしExciting!と思うかもしれないが、IndyのBoarding Serviceが1PMにPick Upに来る前後は、実はとってもふさぎ込んでいた。
犬といえども私たちにとっては子供と同然なので、連れて行かれる車の中で、ドアを閉める前に出て行こうとしたり、懸命に吠え続けるの姿を見るのは、やっぱりつらい。
通りを曲がって吠え続ける声が聞こえなくなるまで車を見送っていた。
あまりにも私が号泣したので、Boarding ServiceのAlisonが数時間後に電話をかけてくれて、Indyがどうしてるか教えてくれた。
マンハッタンから2時間くらい北に行ったUp Stateのところで、広大な土地をフェンスで囲って、bushもpondもある自然いっぱいなところらしい。
Cityしか知らないIndyは、あまりの田舎っぷりにびっくりしたらしく、匂いを嗅ぎまくり、走り回り、他の犬やAlisonの猫とも遊び、なんとかAdjustしたようだった。
まあ、そんなつらい事もあり、午後は一心不乱に掃除したというのもある。
そして、
これから40日の旅行なわけだが、40日といえども、全ての場所でゆっくりできるわけでもなく、結構駆け足だったりする。
そして、今回はThaiとEgyptでじゃダイビング三昧な予定なので、フライトまでの間を空けないといけなかったりと、ちょっとしたスケジューリングもそれなりに必要なのだ。
ダイビングもするし、先進国ばっかりじゃないので、いろいろ危険はともなうだろうが、結局どこでどうなるかは、なるようにしかならない。
とにかく危険なところや人は匂いで嗅ぎ分けて、避けるように心がけようと思う。
あと、バッグチェックも。 
特にLeeはアメリカ人なので、出国前にバッグに麻薬を入れられる危険も高いのだ。
次の更新は、可能ならばBangkokより。
では、いってきまーす。
P.S. 旅の途中はBlogは英語です。